Vammas SB series tow-behind sweepers have been used in high speed snow removal in all sizes of commercial and military airports. The units are manufactured to the highest standards of quality, speed, reliability and simplicity.
Vammas SB series units share the same design principles and standard components as other Vammas units. The units are fast to couple to the fifth wheel or drawbar coupling of the towing truck. In transport position the broom turns parallel to the frame.
Low capital investment with high operating speed.
Vammas tow-behind sweepers are built to operate at speed up to 60 km/h thanks to the use of on-highway truck components and unique design of the broom assembly. Operators only require short training since they are already familiar with driving a standard truck. Trucks can be used for other tasks in and out of season.
New technology available for every Vammas SB Snow unit for safety and performance.
The Vammas SB-sweepers have several standard and optional features to ensure a high performance:
• Remote control unit with graphical display and single control joystick
• Rear wheel steering for better guidance of the plow, broom and air-blower
• ABS brakes for increased safety
• Broom automatically rises when unit is reversed
• Self diagnostics
• Automatic broom pattern control
• Latest engine technology improving emissions, power and fuel consumption
• Latest technology of hydraulic and electrical components
• High standard anti-corrosion protection
Tow truck specifications
Any make of truck can be used or Vammas can supply the truck including the plow hydraulics and additional features required. Vammas SB-units can be towed by a 2 axle 4×2, 4×4 truck, or a rear tandem 6×4 truck. The recommended minimum truck front axle capacity is 9 tons and total weight 18 tons. For more info, please ask for the complete specifications.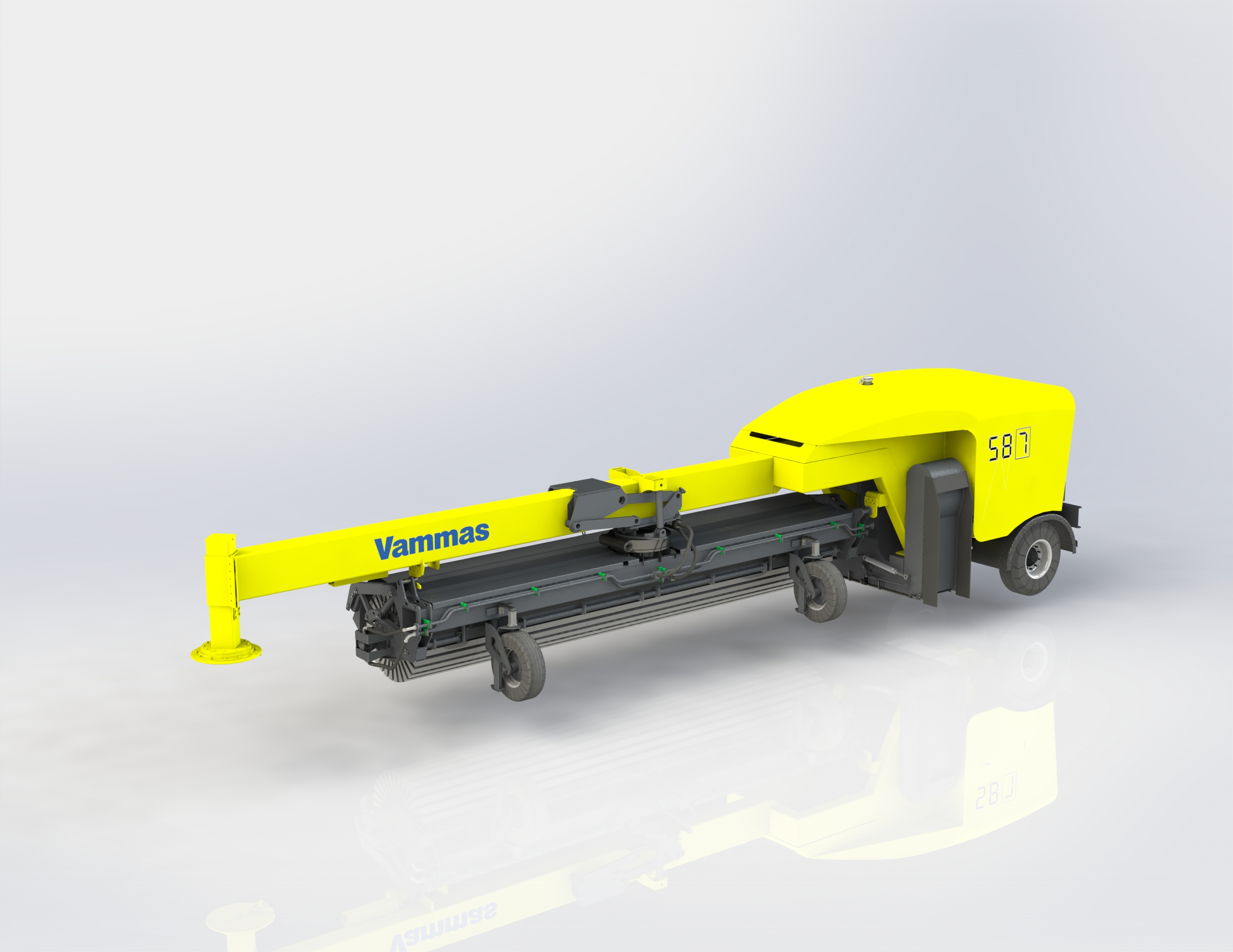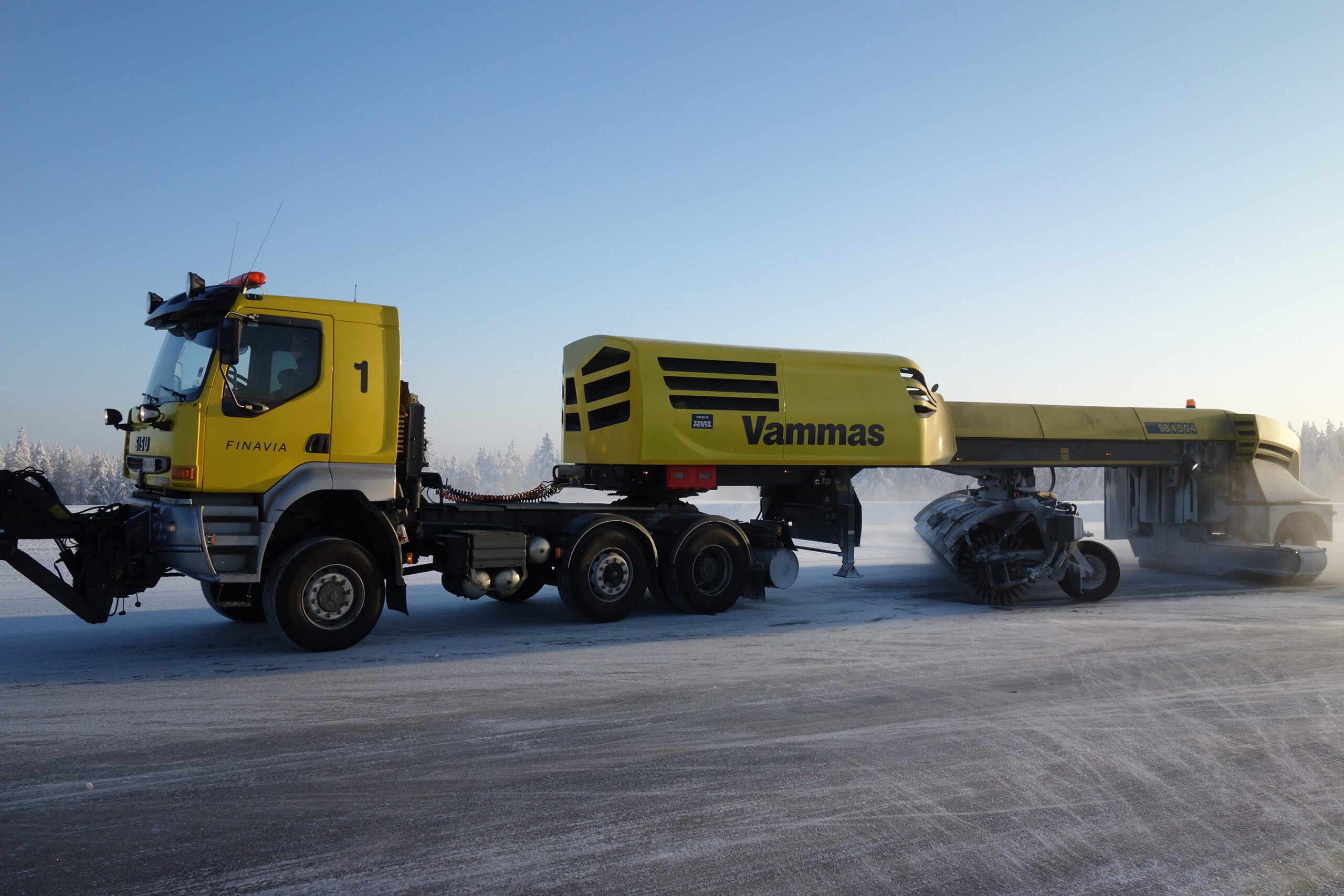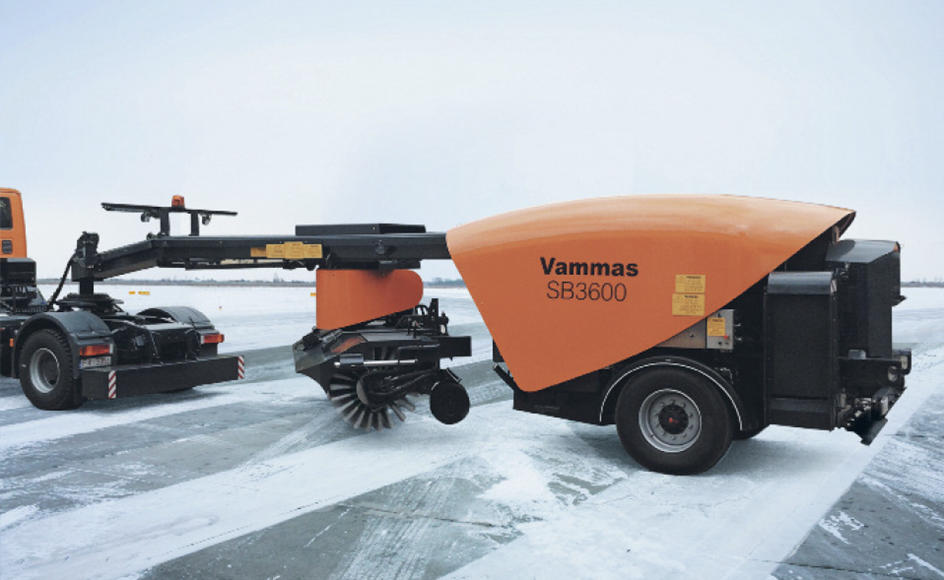 Large diameter broom Vammas 46" broom is standard for SB 5505 and SB 4505 units. The broom assembly is revolutionary producing the best sweeping results due to its dense broom coverage, accurate broom pattern control, eliminating the broom bouncing due to broom suspension as well as being simple in design for reliability. The 30 row cassette broom is standard, but  wafer broom is also available. Maximum broom diameter is 1170 mm.
Technical Specification
SB 3600-5
SB 4505
SB 5505
SB 6
SB 7
Total length from fifth wheel
10.93 m
11.95 m
13.10 m
11.65 m
12.85 m
Working width (work angle 35°)
3.6 m
4.5 m
5.5 m
4.5 m
5.5 m
Total width in transport position
2.55 m
2.55 m
2.55 m
2.6 m
2.6 m
Height
2.62 m
3.30 m
3.30 m
3.15 m
3.15 m
Weight
10 t
16,6 t
17,5 t
15.4 t
16.5 t
Turning radius:
depends on the truck
10.3 m
11.2 m
10.1 m
11.0 m
Broom core lenght
4.2 m
5.65 m
6.72 m
5.65 m
6.72 m
Broom working width (35°)
3.44 m
4.6 m
5.5 m
4.6 m
5.5 m
Broom maximum diameter
960 mm
1200 mm
1200 mm
1200 mm
1200 mm
Swing angle left and right
35°
up to 40°
up to 40°
up to 40°
up to 40°
Caster wheels, automatic adjustment optional
2 pairs
2 pairs
2 pairs
2 pairs
2 pairs
Air flow
8.5 cu m/s
11.5 cu m/s
11.5 cu m/s
11.5 cu m/s
11.5 cu m/s
Air speed at nozzle
400 km/h
500 km/h
500 km/h
500 km/h
500 km/h
Recommended max. working speed
40 – 60 km/h
40 – 60 km/h
40 – 60 km/h
40 – 60 km/h
40 – 60 km/h
Aggregate engine – EU Stage V
EU Stage V 285kW
EU Stage V 285kW - 345kw
EU Stage V 285kW - 345kw
EU Stage V 285kW - 345kw
EU Stage V 285kW - 345kw
Voltage
24 V
24 V
24 V
24 V
24 V
We offer you a number of solutions, please contact us if you are interested! You will receive the detailed info from our experts.