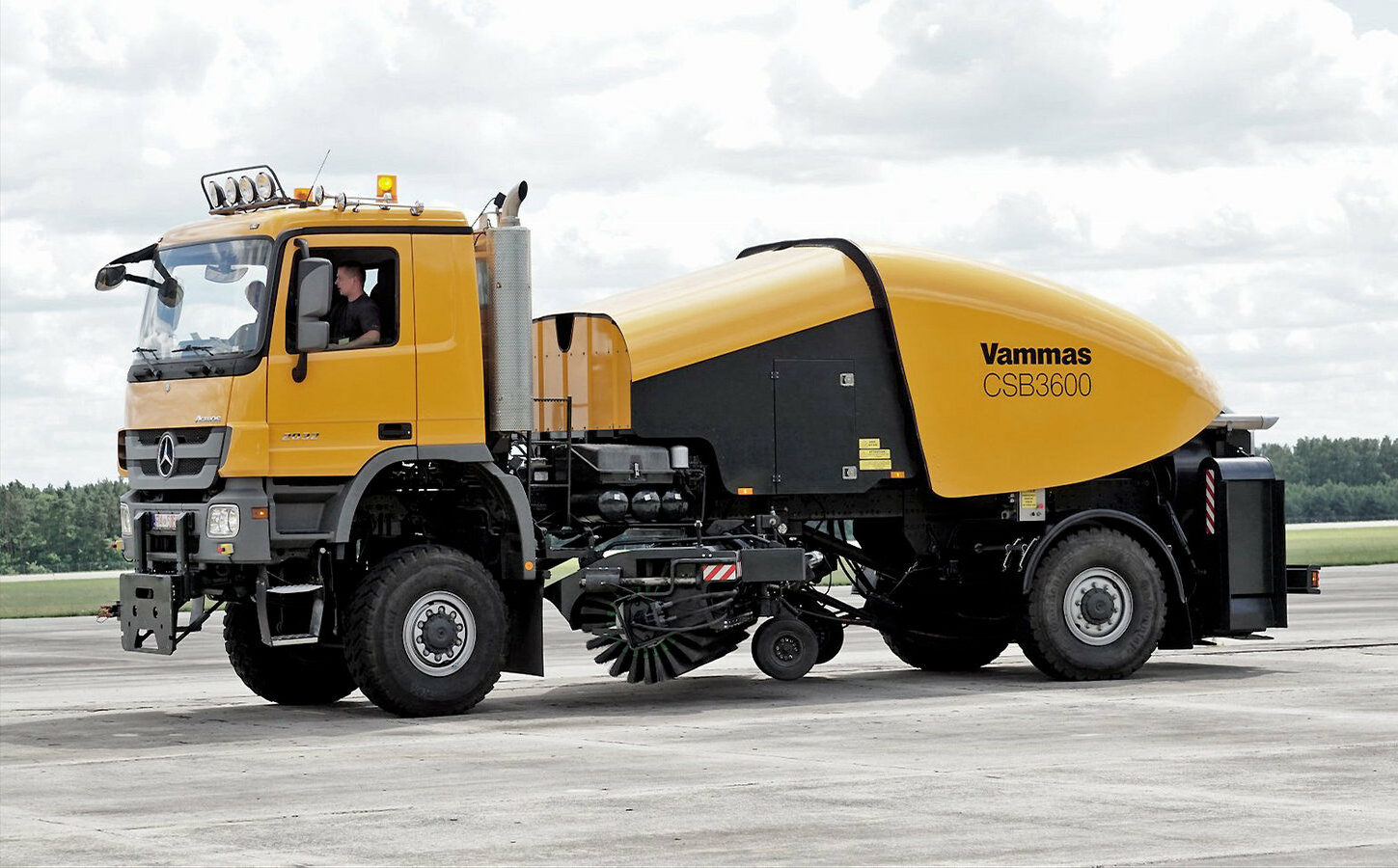 The VAMMAS 3-in-1 PSB-high speed concept has been proven for years both in Europe and North America. All PSB units are manufactured to the highest standards of quality and reliability. The PSB concept is for airports where speed and efficient snow removal are most important – both for the airports and for their customers.
The superbly engineered VAMMAS PSB takes multitasking to a new level, combining the efficiency of a snow plow, sweeper and air-jet blower all in one unit. The PSB unit is designed to give the operator maximum visibility with the unique VAMMAS cab. The machine is short, but still long enough to have the broom parallel to the frame in transport position making it easy to drive to the garage or service area.
VAMMAS PSB unit has both wheel and articulated steering, so it can turn around easily on taxiways and runways. The articulated frame steering also maintains optimally the same path for the plow, sweeper and air blower.
Faster clearing, less runway downtime. A better bottom line.
The wide PSB unit offers substantial savings in capital and labor resources for airport operators by dramatically reducing the need for large fleets of narrow or single function vehicles. Several airports using VAMMAS PSB units have 3 000 m (10.000 ft) runways that are cleaned to bare pavement in less than 10 minutes.
The latest technology for maximum performance in all conditions. The Advanced technology incorporated in to all PSB units includes:
• plows with independent spring-loaded cutting edge segments to maintain maximum contact area even on uneven surfaces
• dense cassette broom system for easy maintenance and option to use steel or polypropylene brooms or mix broom
• powerful air-jet blower to finish runways and remove snow from edge lights
• ergonomically designed 'control tower' cab, with operator in the center to have excellent, all- around visibility
• both engines and frame steering are integrated into
VAMMAS CAN-system for monitoring and diagnostics For more info, please ask for the complete specifications.
| Technical Specification | PSB 5500-5 |
| --- | --- |
| Total length in working position | 21.1 m |
| Total width in working position | 7.5 m |
| Total width in transport position, without plow | 2.6 m |
| Wheel base | 10.5 m + 1.4 m |
| Height | 3.7 m |
| Weight, without plow | 31 t |
| Turning radius: | |
| - from outer plow end | 16.3 m |
| - from outer front wheel | 10.9 m |
| - from inner plow end | 7.6 m |
| - from inner front wheel | 9.0 m |
| Plow total width (37°) | 7.5 m |
| Plow total width (0°) | 9.0 m |
| Plow working width (37°) | 6.7 m |
| Plow angle left and right | 37 |
| Broom core lenght | 6.72 m |
| Broom working width (35°) | m 5.5 m |
| Broom maximum diameter | 1 170 mm |
| Swing angle left and right | 35° |
| Caster wheels, automatic adjustment | 2 single |
| Air flow | 11 cu m/s |
| Air speed at nozzle | 430 km/h |
| Recommended max. working speed | 40 – 60 km/h |
| EU Stage V | Volvo TAD1383, 345 kw |
| EU Stage V | Volvo TAD1383, 345 kw |
| Voltage | 24 V |
| Transmission, Allison 4000 RDS automatic | 6 forward + 1reverse |